Svetlana V. Natarova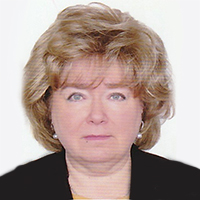 Higher qualification category Speech and Language Teacher, Department of Physiotherapy
Education:
1974-1987, A.M. Gorky Minsk State Pedagogical Institute, degree in Music and Singing
Experience in the field: 38 years, higher qualification category
International trainings:
November, 1978, Leningrad Institute of Ear, Throat, Nose and Speech (Saint-Petersburg, Russia);
1987, All-Union Conference on Phoniatrics and Phonopedics. Report "Key vocal and phonopedic methods to treat singers with voice disorders" (Moscow, Russia);
September, 1989, World Congress on Phoniatrics and Phonopedics (Kiev, Ukraine)
Reports: 10
Core Activities: own phonopedic method to correct for the inefficient manner of singing in singers. The method improves vocal sound and state of throat.