Ekaterina Y. Basalay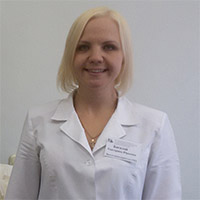 Otorhinolaryngologist
Education
2004-2010 - Belarusian State Medical University, medical faculty;
2010-2011 - internship in the specialty "Otorhinolaryngology" 11GKB
April 1 - April 20, 2010 - the cycle "Principles of conducting clinical trials (GCP rules)"
09.01. - 07.02.2012 - refresher courses "Audiology, Audiology"
since 2016 - clinical residency in the specialty "Otorhinolaryngology", correspondence course
Professional experience: 6 years, 1 qualification category
Participation in scientific conferences:
01/19/2012 - "Rehabilitation of patients with otolaryngological pathology"
04.02.2013- "Emergency assistance in otorhinolaryngology"
10.02.2017 - "Actual problems of otology"
Reports: 2
Priority areas of activity:
Selection of patients for the surgical treatment of polypous rhinosinusitis.
Video endoscopic diagnosis of acute and chronic otorhinolaryngological pathology in children and adults.
Outpatient surgery using the radio wave apparatus SURGITRON.
Diagnosis and selection of patients for the surgical treatment of abnormal sleep syndrome.