Department of Otolaryngology (Audiology) for Adult Patients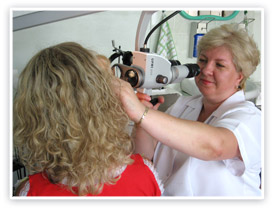 Nina Y. Kostyuk
Chief of the Department of Otolaryngology (Audiology) for Adult Patients of the Consultation Clinic
---
Staff of the Department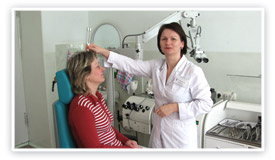 Galina V. Malishevskaya - Otolaryngologist.
Natalya G. Mamchits - Otolaryngologist.
The specialists of the Department of Otolaryngology (Audiology) for Adult Patients provide consultations, treatment and diagnostic services to the adult patients with various ear pathologies:
Врачи отделения осуществляют:
endoscopic and microscopic examinations of ENT organs;
complex diagnosis of hearing disorders;
selection of patients for non-surgical and surgical treatment, including hearing improvement surgeries, Cochlear implantation;
ambulatory surgeries.
Scientific activities:
chronic suppurative otitis media;
otomycosis of trephine cavities;
Implemented methods and proposals:
rational proposal "Procedure for the diagnosis of endolymphatic hydrops of the inner ear with the help of glycerol test using with recording of the evoked otoacoustic emission";
over-vein laser irradiation of blood (NLOK therapy) is used to treat sensorineural hearing loss and tinnitus;
endaural electrophoresis with Biol mud extraction for treatment of chronic secretory otitis media and eustachitis;
high-frequency therapy (low-intensity noise therapy) for treatment of acute and chronic sensorineural hearing loss.