Tatyana N. Butsenko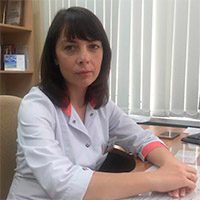 Head of the otorhinolaryngological department of extrabudgetary activities of the consultative clinic of the Republican Scientific Practical Center of Otorhinolaryngology
Education
1990-1996 - Belarusian State Medical University, medical faculty
1996-2008 - otolaryngologist, doctor of the 28th city polyclinic, Minsk;
2008 - 2010 - otorhinolaryngologist, doctor of ultrasound "4th N.Savchenko City Clinical Hospital"
2010 - 2012 - clinical residency in the specialty "otorhinolaryngology" of the Republican Scientific and Practical Center for Otorhinolaryngology.
2012 - the first qualification category is assigned
2018 - awarded the highest qualification category
Publications in scientific journals in the specialty: 7
Participation in international conferences: "Actual problems of rhinology. Endoscopic Surgery "2003; "Odontogenic chronic maxillary sinusitis." Opinion otorhinolaryngologist and dentist "2011; "Modern problems of pathology of the larynx and trachea in adults" 2015.